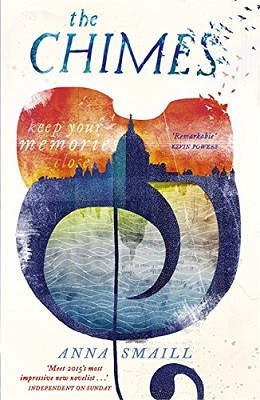 Author: Anna Smaill
Read: May, 2016
Genre: Dystopia
Review:
(Side note – this book was long-listed for the Man Booker 2015.)
The Chimes is set in an alternate London, where people live with a constant inability to form solid memories. The mysterious Order have imposed this state of enforced amnesia through music, rendering the past lost. The book follows the journey of Simon, who after travelling to London searching for answers about his parents begins to realise he possesses a gift that could help destroy the existence of the memory stealing Chimes.
I really, really liked this book. It was refreshingly original, if a tad confusing at the start. Once you begin to puzzle out how things work in Simon's London, and indeed the strange, musical language Smaill has cleverly woven throughout her poetic prose, this is a highly rewarding read. This does mean that the book takes a little while to gather momentum, but once it does the plot swiftly carries readers toward the novel's climatic close.
As already mentioned, Smaill has added a range of strange, musical jargon throughout the text, such as "lento" and "subito"; whilst at first this is rather like encountering a random piece of a foreign language in an English sentence, it slowly becomes more familiar and adds a distinctive sense of unique language that further establishes the strong sense of setting.
Whilst I liked the two main characters, Simon and Lucien, and the secondary character Clare, I felt that I never got to understand many of the other characters well enough to really develop a connection to them. However, this issue is intrinsically linked to the overall concept of the book – how is our narrator, Simon, meant to provide us with insightful details of characterisation for all the people he encounters, if he struggles to remember anything? In order for Smaill's intriguing concept to work, I feel that strong characterisation, mainly for secondary characters, had to be somewhat sacrificed. Once I realised this, I also came to understand that I would not have engaged so well with the book if it had created this wealth of added characterisation I normally love in books. The pain of not remembering, of being incapable to hold important details about people you care about in your mind, would not have resonated at all unless it directly inhibited Simon himself. Overall, this was a wonderful book and I highly recommend it.
Best Quote:
"If someone knows all there is to know about you, isn't that a kind of forgiveness?"
If you like this, try:
This bit is tricky. The Chimes' quirkiness means that I'm struggling to think of anything else I've read that was similar. It did give me a sort-of-but-not-really-the-same feeling as when I read Heaven by Christoph Marzi and The Book of Dead Days by Marcus Sedgewick. I think because both books also have an element of forgotten memories and both are unsettlingly mysterious.